Welcome to the website of Brent Archer, writer of #ownvoices gay contemporary romance. Come inside to find stories of love and sex between some smokin' hot men.
Find me on Indie Book Vault and Bibliopride (links on the icons) as well as Amazon and Kobo.
Check out my guest blog spots on Delilah Devlin's blog discussing the Rain City Tales in November 2017, January 2018, February 2018, and April 2019!
Available Now!
Rain City Tales Book 7: Memories of Cormandel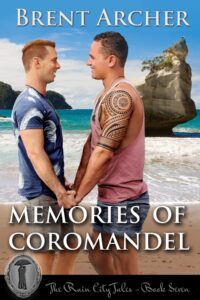 (January 2023) – MacKenzie Wright needed a vacation, but a three-month work trip to Auckland over the holiday season wasn't what he had in mind.
Three years ago, MacKenzie said goodbye to Eric Parata, not envisioning he'd ever return to the sun-kissed beaches of Coromandel. Fate, in the guise of his best friend Alicia, intervened, and now MacKenzie find himself face to face with the man he'd left behind.
Over the holidays, his feelings run deep, but in the back of his mind, he knows the clock is ticking on his time in New Zealand. His life in Seattle beckons, but will he listen to the call of his heart instead?
Preorder Memories of Coromandel on Amazon and Kobo.
Black Rock Cult Series Book 1: Rediscovering Todd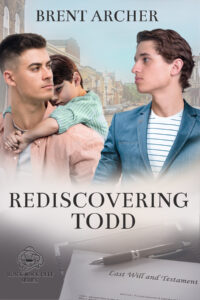 (October 2022) – First book of a three-book romantic suspense series set in the small town of Le Rocheux, Wisconsin. Danny Jarvis returns to his roots after the death of his abusive stepfather, expecting to sell his mother's house and get back to his home in Los Angeles as fast as he can. A surprise stepbrother and the childhood coward who'd thrown him to the wolves to protect his own secret disrupt his plans.
Todd Larson hadn't ever expected Danny to return to town, but when his schoolboy crush reappears, he makes every effort to atone for his actions and convince Danny to give him a chance. With Danny's stepfather's will not quite making sense, Danny and Todd try to navigate their new reality. The unexpected arrival of Danny's overly helpful friends test the fragile peace they've managed to achieve, but sinister events threaten both their lives and the child in their care.
Order Rediscovering Todd on Amazon and Kobo. Print version available on Amazon.
Stories in the Rain City Tales series:
Rain City Tales Book 1: The Officer's Siren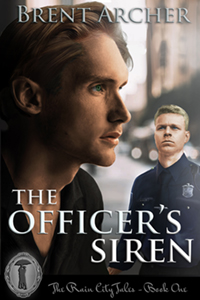 (2017) When Mike Bryant's truck goes missing, Seattle Police Officer Jason Lynch responds to the call. Mutual interest builds steadily into a strong relationship until Jason is nearly killed in the line of duty.  The two men grapple with the memory of Jason's former lover and Mike's imminent entry into college.
Jason is forced to confront his feelings, and Mike's disapproving cousin, when he saves his unconscious boyfriend from an attack by two drug addicts in a parking garage stairwell. As they try to regain their relationship's footing, secrets from Mike's past surface, threatening to tear them apart for good.
Order The Officer's Siren on Amazon or Kobo.
Print version available on Amazon.
 Rain City Tales Book 2: Past Secrets Present Danger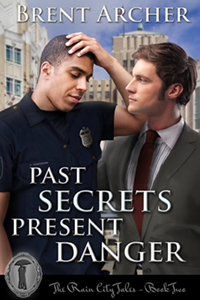 (2018) Roger Matthews works for a marketing firm as their controller, but constantly stays late at the office because a problematic director continually runs off his staff. His boyfriend, Officer Paul Tomlinson, works several evenings a week, further complicating their ability to spend time together. To make matters worse, Paul's best friend and partner on the force, Officer Jason Lynch, doesn't approve of their relationship.
When Paul is injured in the line of duty, Roger juggles his work duties on a major software conversion with taking care of Paul's affairs, including contacting his estranged family. After meeting Stan and Tasheeka Tomlinson, Roger begins to uncover the secrets Paul has been guarding so closely throughout their relationship. As Paul struggles to recover, Roger must navigate between Paul's past and their future together.
Order Past Secrets Present Danger on Amazon and Kobo.
Print version available on Amazon.
Rain City Tales Book 3: I'm Yours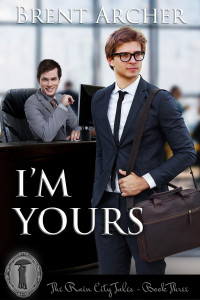 (2018) – Third book of the Rain City Tales. Toby Hayden pounds the pavement of Seattle looking for his last chance job after false accusations get him fired from his Controller position. After impressing Mr. Herrington and Roger Matthews, Herrington offers him a job. Marketing Director Marsha Fisher takes an immediate dislike to Toby, and dredges up his past controversy by hiring his ex-boyfriend, Mark Spencer. threaten both his job, and his blossoming relationship with the concierge, Merrick Hamilton.
Order I'm Yours on Amazon and Kobo.
Print version available on Amazon.
Rain City Tales Book 4: The Wedding Weekend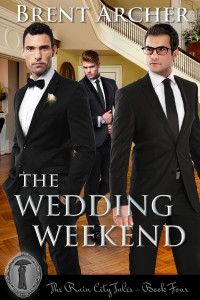 (2018) – Clark Adamson needs a date for his sister's wedding, but he's sworn off the gay scene in Seattle. He turns to the internet and comes up with Mitch Hampton, a red-headed, muscly escort, who agrees to accompany him.
Wes Palucinski keeps the closet door firmly shut to his family and invents a list of unavailable girlfriends as an excuse to go stag to his homophobic brother's wedding. When Clark shows up with Mitch, Wes is forced to confront his feelings and his secrets, which threaten to blow up the wedding weekend.
Order The Wedding Weekend at Amazon and Kobo.
Print version available on Amazon.
Rain City Tales Book 4.5: Mitch's Men – a holiday novella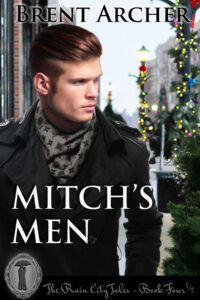 (2021) – Mitch Brownlie has a decision to make – one that will change the course of his life.
After helping save the wedding of his client Clark Adamson's sister, Mitch continued his escort relationship with Clark and his partner Wes Palucinski. The three men have become quite close, blurring the lines between clients and lovers. Wes and Clark make Mitch an offer to become a throuple, committed to each other in every way.
Complicating issues, a former client rears his head and threatens Mitch. Turning to his friend and his cousin, Mitch tries to make his choice under the shadow of a stalker threatening him. Should he survive the danger from his former client, he still has to face the most important crossroad of his life.
Order Mitch's Men on Amazon and Kobo. Print version available on Amazon.
Rain City Tales Book 5: Saving Parker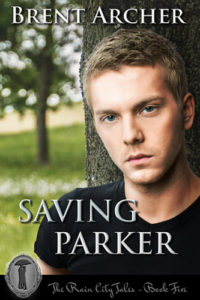 (2019) – Caught red-handed stealing the jewelry of the handsome attorney's wife, Parker Rice expected to go to jail. Instead, he embarks on a journey of redemption, confronted with the horrors of his childhood.
After attorney Anthony Swifson offers Parker a deal to avoid prison, he takes on the rehabilitation of the young thief. With a heavy caseload, a son, and an ex-wife's health issues, he doesn't have time or energy to devote to the one thing that threatens to disrupt his world: his feelings.
Order Saving Parker on Amazon and Kobo.
Print version available on Amazon.
Rain City Tales Book 6: Song of Salvation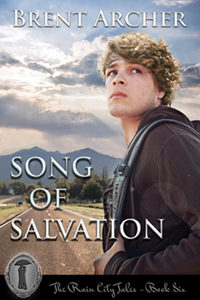 (June 23, 2020) – Kelton ran. Ran from the father who was supposed to love him. Ran from the lover he'd been caught with. Ran from his hometown of Ellensburg and the only life he'd known. After two years on the streets of Bellingham turning tricks to survive, Kelton found trust a hard commodity to trade. A chance encounter with businessman Alex Martinson after a john left him a room for the night resulted in an offer Kelton couldn't refuse.
In his new role as houseboy and general domestic at the Martinson Estate in Shoreline, just north of the city of Seattle, Kelton finds himself safe, warm, and fed. Though not understanding the motivation behind Alex's generous offer of college and a fresh start, he embarks on rebuilding his life, including singing lessons.
When Billy Winston reappears in his life, Kelton is torn between his loyalties to Alex and his former lover. Alex Martinson also has secrets, including the business associate he's desperate to keep Kelton away from. With the culmination of Alex's kindness and Billy's encouragement coming in the form of a vocal concert set to change his life forever, Kelton must face his biggest fear.
Order Song of Salvation on Amazon and Kobo. Print version available on Amazon.
---
---